From Surfers Paradise to Southern Gold Coast, indulge in easy, breezy brekkies and surfie-watching by the beach. Read more to discover cool gems as you wander south from the iconic Surfers Paradise to Burleigh Heads, Currumbin and Coolangatta.
---
Surfers Paradise
Energetic, enthusiastic, electric, eclectic! These are just some of the words that sum up the scenes and vibes on Surfers Paradise. A favourite icon amongst visitors, Surfers has always been an entertainment playground famous for its world-class nightlife venues andinternational events. The new foreshore is bustling throughout the day with runners, cyclists and skateboarding enthusiasts taking advantage of this beachfront boulevard vista overlooking the surf and sand. If it is your first time on the Coast, spend time in Surfers to see the most vibrant of Gold Coast.
Must do's:
Skypoint Observation Deck is a must-visit when in Gold Coast to getunrivalled 360-degree views from the coast to the hinterland.Hang out with Queenslanders at BMD NorthCliffe Surf Life Saving Club, where you dine on the beach with a million-dollar sea view. Another good spot is Hurricane's Grill and Bar Surfers Paradise.
Rent a bicycle or scooter to explore every nook and cranny of Surfers Paradise.
Broadbeach
As its name suggests, Broadbeach is home to a long, pristine stretch of beach easily accessible to pedestrians and cyclists and is bordered by several parks that make for great picnic areas. Renowned for its five-star culinary scene down to cool hipster cafes – a day in Broadbeach is one of the ultimate wanderlusts for foodies. Another venue not to be missed is the newly renovated Pacific Fair where you get to take your pick from over 300 stores. Be prepared for a gastronomic adventure and shopping extravaganza in Broadbeach!
Must do's:
Visit Pacific Fair - Queensland's latest shopping and dining destination, offering an expansive collection of over 400 luxury global brands as well as leading Australian retailers.
Feast it up in Broadbeach. Iconic cafes and restaurants include No Name Lane, Elk Espresso, One 50 Public House, Social Eating House and Mamasan.
Burleigh Heads
Good news for shopaholics. This shopping mall is an oasis in the city where people can enjoy trees and flowers while browsing boutiques. Strolling up and down the terraced rooftop gardens, there is a dramatic sense of scale and movement accentuated by waterfalls and hanging greenery. The retail stores are diverse and abundant fit for everyone!
Must do's:
Book yourself a sunset dinner to catch stunning ocean views. Choices are aplenty at Burleigh foreshore.
Book yourself a sunset dinner to catch stunning ocean views. Choices are aplenty at Burleigh foreshore.
Walk along the beach or rocky headland from Tallebudgera Creek or explore the Rainforest circuit. Get up close and personal with Australian brush-turkey nesting mounds, seabirds and water dragons.
Visit the homeboys at Burleigh Brewing Company and learn about world-class local beer from the Coast!
Coolangatta
Once you arrive in Coolangatta, you're at the end of Queensland's Gold Coast as we know it. Visitors flock here for a change of pace to their holiday. From here, you can look back towards the Surfers Paradise skyline in the distance and the entire coastline and feel, well, a little smug in the knowledge you've slowed down a bit.
Renowned for its spectacular surf the surf, particularly off the northern corner of Coolangatta Beach, the headland around Greenmount, Snapper Rocks into the southern corner of Rainbow Bay and of course, the world-class surf break of Duranbah.
A lovely trail wraps around Greenmount Hill connecting Greenmount Beach to Rainbow Bay from which you can head up the hill to the exotically named Point Danger and plant one foot in Queensland and another in New South Wales at this lookout point which is also a great place for whale watching between June and October.
Must do's:
Head to Point Danger where you can brag that you have set one foot in Queensland and another in New South Wales.
Go on a shopping spree at The Strand where you get a dynamic mix of fashion, surfwear, supermarkets, gifts and homewares.
Catch world-class acts at The Quicksilver and Roxy Pro Gold Coast surf competition and witness the most progressive surfing with the best right-hand point breaks in the world.
Miami Marketta
Miami Marketta is Gold Coast's first Street Food Market and centrally located in Miami's industrial estate. 20mins from Coolangatta Airport and 8mins to Broadbeach. It is a creative precinct hosting art and fashion studios, weekly Street Food Night Markets, art exhibitions, poetry slams & music events.
Locally brewed craft beers & boutique wines are carefully selected to complement our food. Standing or seated, the open plan warehouse style laneway is fully undercover with the feel of an outdoor event. The perfect place to host a unique experience for your guests.
Where: 23 Hillcrest Parade, Miami
When: Wednesday from 5pm – 9pm, Friday from 5pm- Late and Saturday from 4pm- Late
Night Quarter
Step into Gold Coast's newest creative playground, NightQuarter, featuring night markets, micro-restaurants, emerging fashion and a unique live music space. Take an exciting adventure through a shipping container city, showcasing the local talents of over 120 speciality food purveyors, designers, musicians and craftsmen.
Bedazzled by the kaleidoscope of colour, flavour, music, noise and action that makes up a NightQuarter experience.

Where: 1 Town Centre Drive, Helensvale, Gold Coast
When: Every Friday Saturday from 4pm-10pm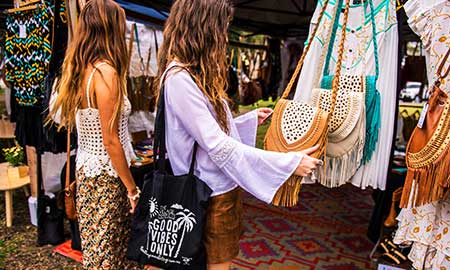 Village Markets
Walk into the backend of Burleigh Heads State School and you will catch the first colourful glimpse of stall after stall of creative goodness. From funky threads for little and big market goers, to vintage treasures and tropical homewares, there's something for everyone at The Village Markets.
Window shopping may seem impossible as it will be hard to walk away from the cutest mini gelato plant hangers you ever did see from Vessel and Vine, canvas prints from the Insta-famous Seagypsy photographer Pip Harwood.

Where: Every 1st and 3rd Sunday of the month at Burleigh Heads State School, Burleigh Heads; Every fourth Sunday of the month at Paradise Point Park (Corner of The Esplanade and Ephraim Island Parade), Paradise Point.
When: TVM Burleigh Heads from 8.30am-1pm; TVM Paradise Point Park 8am-1pm
Travel on G: Link with go explore card
For only AUD10 a day (AUD5 for children aged 5-14 inclusive), you get G:Link connects you to 16 tram stations from popular Surfer's Paradise to Broadbeach where you get to hang out with the locals. Maximise the value by taking the bus to the theme parks or simply just take in the city by bus and tram hopping.
From skydiving to Skypoint climb, free fall in love with the open skies and Gold Coast's beautiful coastal line. Continue reading for adventures you can look forward to on the Coast.
---
Hot Air Ballooning
Let the magnificence of the Gold Coast hinterland take your breath away as you soar in the sky with Hot Air Gold Coast. As you float 3,000ft above farmyards, fields and forests, keep your eyes peeled for wallabies and kangaroos as they hop around the rolling fields. After landing, adjourn for a glass of bubbly and a traditional breakfast to wind up your perfect morning.
Skypoint Climb
Scale one of Australia's highest external building climb, 270m above sea level. At the peak, you will be able to bask in the beauty of the city's coastal line and its breathtaking skyline.
Meanwhile, children and the elderly can stroll around the observatory deck and have their perspective change from crashing waves, to hotels of varying heights and architectural structures
Learn to Surf classes
Learn from the pros and ride a wave!
There are a good number of surf schools in Surfers Paradise offering private and group surfing classes. Pick one and prepare yourself for a ride of your life!
Theme parks
Warner Bros. Movie World, Dream World, Sea World – think you have seen 'em all?
Have you journeyed to the depths of the ocean in Sea World's latest attraction, Creatures of the Deep, or taken the all the BIG 9 Thrill rides in DreamWorld? Or rode the fastest, tallest and longest hypercoaster in the Southern Hemisphere? Scream your lungs out on DC Rivals Hypercoaster when you visit Warner Bros. Movieworld!
Jetboating
Have a thirst for speed? How about getting on a rollercoaster on water? Experience full 360° spins, high speed drifting, incredible beach buzzing and other exciting manoeuvres in as little as 10cms of water, while you explore Gold Coast's unique waterways. Ride in the most advanced jet boats in Australia. Our vessels are faster, more manoeuvrable and feature the highest levels of safety, comfort & performance.
Explore hinterland tales and timeless trails that lead to endless horizons. Read more to get a glimpse into Gold Coast's best kept secret.
---
Farm Stay or Glamping in the Gold Coast hinterland
Looking for a retreat to recharge and escape the hustle and bustle of the city? If you answered yes, then a Glamping or Farmstay experience in the Scenic Rim is right up your alley. Tucked away in the mountainous area of the Scenic Rim, Ketchup's Bank Glamping is a 2 hour drive from Gold Coast. What made the glamping experience unique were the wallabies that kept dropping by. Food is provided in the tents specially to feed the wallabies! And by night, the night sky is lighted up by thousands of stars in the sky! Families with kids will enjoy the experience what life is really like on the farm with an overnight stay at Cedar Glen or Worendo Cottage. Get involved with daily activities like milking the cows, feeding the animals and collecting eggs, or if you'd prefer to just take in the wide open spaces and scenic views of rugged mountain ranges, that's okay too!
---
Springbrook National park
Spectacular waterfalls, cascades and tumbling creeks are dominant features within this lush rainforest. Springbrook National Park covers 6,725 hectares and is divided in four main eco-quadrants — Springbrook Plateau and Mount Cougal to the south east as well as Natural Bridge and Numinbah to the west. There's wildlife galore with over 100 types of birds, frogs and reptiles plus a plethora of plant and tree species; some over 2,000 years old as evident at The Best of All Lookout. Be sure to visit Natural Bridge by day to see a unique cave waterfall, or after dark, discover the park's amazing glow-worms.
Natural Bridge
The picturesque Natural Bridge rock formation is a hotbed for nature lovers seeking Instagram-worthy shots. This spot is easily accessible from the Nerang-Murwillumbah Road car park. Start the short 1km-long subtropical circuit clockwise and descend through ancient Gondwana rainforest to the Natural Bridge rock arch.
During the day, keep an eye out for paradise riflebirds, green catbirds, wompoo fruit-doves and also rare and threatened species like the cascade tree frog, tusked frog, sooty owl and koala. By evening, join a guided nocturnal tour to see the resident colony of protected glow-worms and microbats. On summer nights, also see luminous fungi and fireflies.
Best of all Lookout
Best of all Lookout is at the Plateau section of the Springbrook National Park. Dominating the Gold Coast's western skyline, Springbrook's cool forests and mountain streams offer views of impressive landscapes, and walks among subtropical and temperate rainforest, open eucalypt forest and montane heath. Spectacular waterfalls, cascades and tumbling creeks are dominant features in this World Heritage-listed Gondwana Rainforests of Australia.
---
Lamington National Park
Lamington National Park is part of the Gondwana Rainforests of Australia World Heritage Area, the most extensive subtropical rainforest in the world. The area is renowned for its beautiful waterfalls and over 160km-long trails. Nature lovers will be enchanted by the wildflowers and rare wildlife that thrive in the area
Binna Burra
Lamington National Park has plentiful of trails that lead you to hidden, stunning waterfalls. For a start, head over to Binna Burra section of Lamington National Park and discover the incredible lookout point over the Commera Gorge. The 8km return trip to the lookout point and promises one of the most spectacular views you have ever seen. Other waterfalls that you can check out include: Moran Falls, Box Log Falls, Elbana Falls and Chalahn Falls.
O'Reilly's Rainforest Retreat
O'Reilly's Rainforest Retreat, a true nature's paradise, situated in World Heritage Lamington National Park It is renowned for its Tree Top Walk that offers visitors a close up view of the rainforest canopy and its wildlife. When you stay at O'Reilly's, you can choose to explore on your own or take advantage of the guided Discovery Programme. The programme offers guided walks, four-wheel drive bus tours, nocturnal walks and glow worm walks, flying fox rides, slide shows and many more. This is one retreat that will have your rejuvenated and reconnected with nature.
---
Wildlife Encounters
Whale Watching (Seasonal: June – October)
If you are planning ahead for your June holidays, be sure to book your family on a whale watching excursion to marvel at majestic humpbacks in their natural environment with the stunning Gold Coast Skyline glistening in the background. Enjoy the adrenaline rush when you watch one of the world's biggest mammals do their breach or wave their pectoral fins and slap their tails. A bonus sighting would be the playful dolphins who are often spotted in close proximity to the whales.

Recommended tour: Whales in Paradise.
Cuddle A Koala
Queensland is one of the three states in Australia where you are allowed to cuddle a koala in your arms, a unique Aussie experience that one needs to tick off his / her bucket list. Best places to see, watch and cuddle a koala in Gold Coast are Currumbin Wildlife Sanctuary and Dreamworld.
Ever seen splashes of colours flying in the air? You might have chanced upon the lorikeets. Be surrounded by this colourful avian species over your head, and landing on your shoulder, hand and even your head during feeding time! Best places to interact with lorikeets: Currumbin Wildlife Sanctuary and O'Reilly's Rainforest Retreat.
Pelican Feeding
Charis Seafood restaurant, 371 Marine Parade, Labrador QLD 4215 hosts a daily Pelican feeding session at 1.30pm. It is recommended you arrive early for the full experience — grab a seafood basket or fresh oysters from the restaurant and witness the pelicans gathering before feeding time. Pack your swimmers and a picnic lunch and make an afternoon of it.
For more information, visit www.queensland.com and blog.queensland.com and take the first step to a fun-filled journey now!